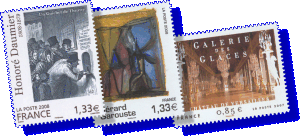 Self adhesive Stamps
The very first self-adhesive stamps were issued in 1990 by the French post, mostly sold in booklets for the use of the great public; however since a few years, an increasing number of gummed postal stamps are being commercialized at the same time in self-adhesive form, mostly for the business use.
Whereas gummed commemorative stamps are issued for collector purposes, the self-adhesive stamps became the real postage stamps nowadays; thus declassifying these issues at the end of a stamp catalogue would be absurd! However, to help our customers find quickly the required items, we not only listed them in our section POSTAGE STAMPS, but in this additional SELF ADHESIVE STAMPS section as well.
Self-adhesive stamps in mint condition are always delivered on the original backing; used stamps, depending on stock, either detached (paperless) or on used backing (e.g. on piece).